Increasing tech salaries
Wait! Have a look at these articles first.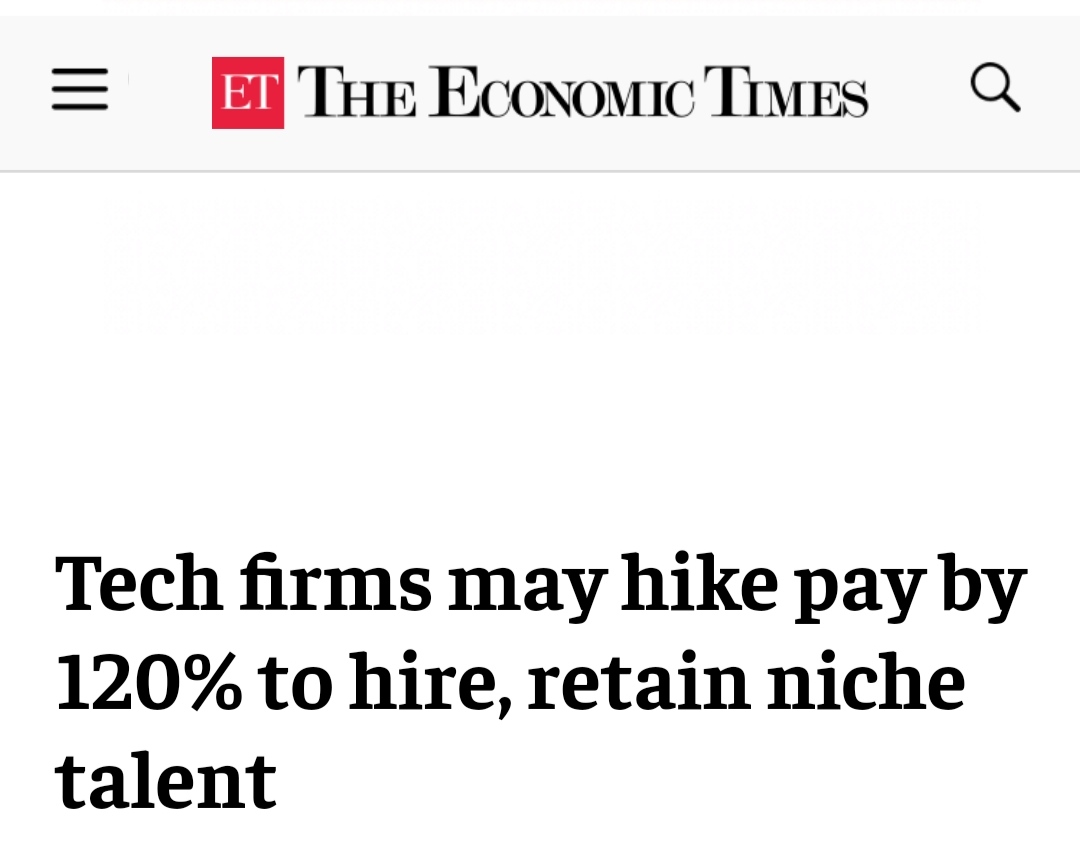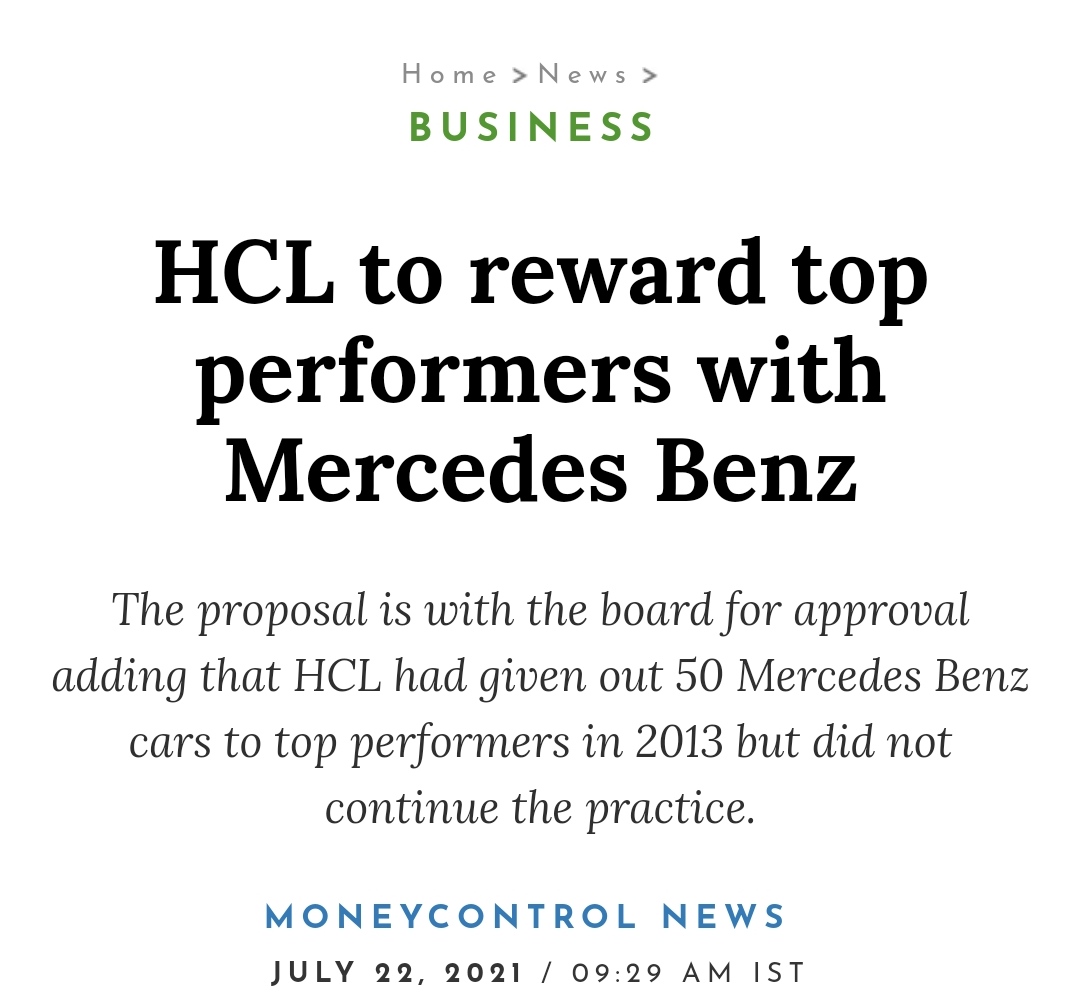 To summarise the above news articles, Tech firms may hike pay by 120% to hire, retain niche talent, HCL will be providing Mercedes to the top performers in the company, the average tech salary in 2022 hit the six figure mark.
What are these news articles and these insane numbers? Why are companies ready to give such unrealistic salaries to their tech employees? Well, if we talk about the past few years, the demand for tech has been higher than ever, especially after the Digital Revolution. There has been an increase in both software engineers and need for software engineers and that seems to be showing in the compensation from the tech industry. However, mere knowledge to chalk in code shouldn't compel these companies to pay such huge numbers to the employees. Why are salaries suddenly in the sky for tech workers?
Population is increasing, the job market is getting more and more competitive and freshers are settling for lower paying jobs and BOOM! There you are with 50 LPA going to the office in a BMW bike, that too quite literally as according to an article in BusinessToday.in "BharatPe on Thursday began rolling out the first batch of BMW motorcycles for new joinees to the firm's tech team." By now you must have been assured that these are not news from another dimension rather this is what's happening in the tech industry right now. Companies are ready to open treasures for its tech team but why?
Understanding of what's happening
![](https://lh5.googleusercontent.com/jNJUaV-BF1snTx4JAlOXysqaBh4ZjKYebzPWMIXlwAiRzYnrVgeYrTlFfT212QsH_wcgRE_b6e0UktrbXwDlK5_18lj9awK6kKC5fJupPibnbQ7dT2fepOEkidZ-shRP_9va_hzQ =624.0x103.0)
Recently in AON India's 26th salary increase survey it was found that average pay raise in India's tech sector was 11.2% for the year 2021-22 this was 1.8% higher than the rest of the remaining sectors. All of that to save the current workforce from leaving. There has been an increase in demand for tech workers across all the sectors according to a report by Deloitte, "Analysis of trends in employment reveals that the tech workforce in 2020 was 5.5 million strong and has been growing at an average annual rate of 2.2% since 2001". This created a demand and supply gap between the talent and the company, hence companies are trying their best to retain the talented workforce and trying not to lose them in the competition.
But shouldn't it be strange that India, which is considered the hub of the IT sector and has a reputation for being the IT specialist worldwide, is struggling to retain their IT workforce? Actually, there are some behind the scenes trends that could answer these questions.
![](https://lh3.googleusercontent.com/PK74puyf7nU_G4MNJ6tNeQeUeLv7RVC4_ftvUX6Zoevp5NHS3IslJn4PZaRkhRxsRaj3wZ003dWQl_2ANnle48L7VLXLs8I0q3m7YRh4EdsjmzByObfvcEgP4tQEnUKMWx7MKyFU =624.0x119.0)
Not all engineers are employable
According to an article published on Opinion Own, in India there are 15 Lakh engineering graduates every year yet only 20% are able to secure employment, and what about the rest 80% they either pursue their passion or are labeled unemployed. According to another article published by economic times 94% engineering graduates are not worth employing. This creates a huge gap between quantity vs quality of the tech graduates and since this gap exists companies try to retain their talented workforce and they are really high in demand.
Fear of brain drain
According to moneycontrol Since 2015, nearly 9 lakh Indians have given up their citizenship. Most of the top Indian talent are receiving offers to work abroad at much higher salaries and due to the exchange rate foreign companies are still at the profit. This makes it difficult for Indian companies as they not only have to retain their talent but now, they also have competition from top tech giants abroad.
Startups are in the game
Here we are talking about well-funded startups that have enough cash to hire a large team. Mid-stage startups or well-funded startups are also looking to expand their tech team and for that they are offering sky high salaries for tech recruits.
4. Tech landscape is expanding
According to Gartner, global software spending in 2021 is expected to grow by 8.8%. Businesses are shifting online that means the industries which prior had no use of tech are also shifting to digital spaces this just increases the demand for tech talent. Not only that even for companies with limited or no online presence the groundwork is mostly digital, hence tech workforce is now a must for the companies. As mentioned in the previous post, although the demand for tech is increasing, the current scenario with tech isn't helping to fill that up completely, hence these higher salaries.
Technical skill set has always been in demand and now due to this increasing competition and need it is only going to increase. Some small scale companies who cannot afford such insane salary hikes are trying to retain their work force with promotions and some other benefits. Experts believe that such salary hikes could increase the income gap and might hamper the recruitment from other industries as companies have to pay other sectors too. Channelizing all their money into just one sector could bring possible concerns, however as most of the large-scale companies function on a proper systematic budget they should not have concerns with budget allocations for different sectors. But small companies who are trying to stay in the market might face difficulties as they are forced to cut down the salaries and even lay off employees of other sectors.
Is tech going to be hot forever?
The answer to this question depends on the various factors such as the global macroeconomic trends and the upcoming tech talent. The race among the companies posing tech employees as their reward might not be on the track for long.
According to worldbank.org "Global growth is expected to slump from 5.7 percent in 2021 to 2.9 percent in 2022— significantly lower than 4.1 percent that was anticipated in January." This indicates a global slowdown which might hamper the hiring for companies in near future and that includes tech hiring as well. As of now the bull run doesn't look that certain.
However, we know for sure that it will be very interesting to see how these higher salaries pay off the tech industry as a whole, but equally difficult to forecast the future of tech hiring amidst mass layoff and competition for talent.