Hope and Hiring: During mass layoff
The beginning of the financial year did bring some buzz in the hiring sector, although the buzz was mainly filled with the chatter of funding freeze followed by mass layoffs, overall, this is what we can call chaos. Just dig into the news from the Indian startup world, you will most likely find articles similar to those owning the top spot.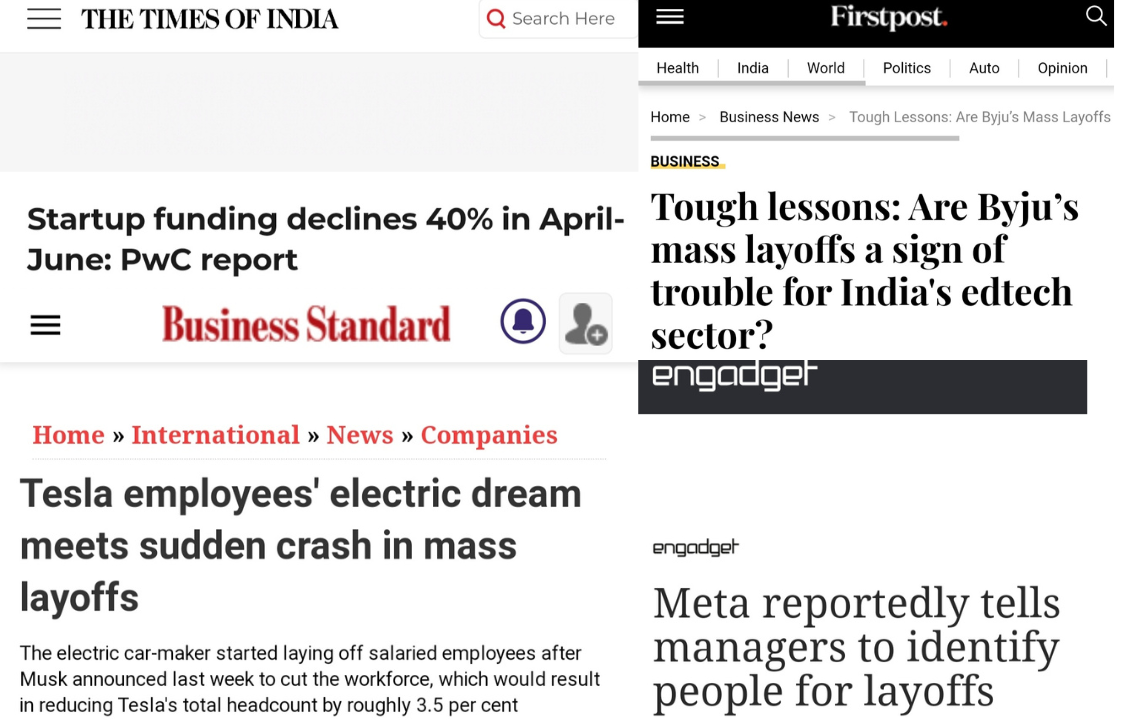 The difference in moods - To hire or not to hire
The brick of funding freeze has not fallen on all, since the large-scale startups with enough cash flow can keep up with the signs of economic slowdown, Upgrad announced to hire around 3000 people in the next 3 months which is contrary to other ed-tech companies like Vedantu and Byjus which are laying off employees on a massive scale.
Amazon has shared its plan to hire over 50,000 new employees.
Implying that on one side where even tech giants are suffering on the other side, there are other giants who are looking forward to adding new talents to the team.
There new startups as well, who have recently received funding & have joined the hiring market.
Apart from Amazon and Upgrad there are other MNC's as well that are looking to expand their hiring plans during this year. This is a positive sign for the talent who are the victim of the Funding Freeze and economic slowdown. So let us find a bit more about the companies still looking to invest in hiring.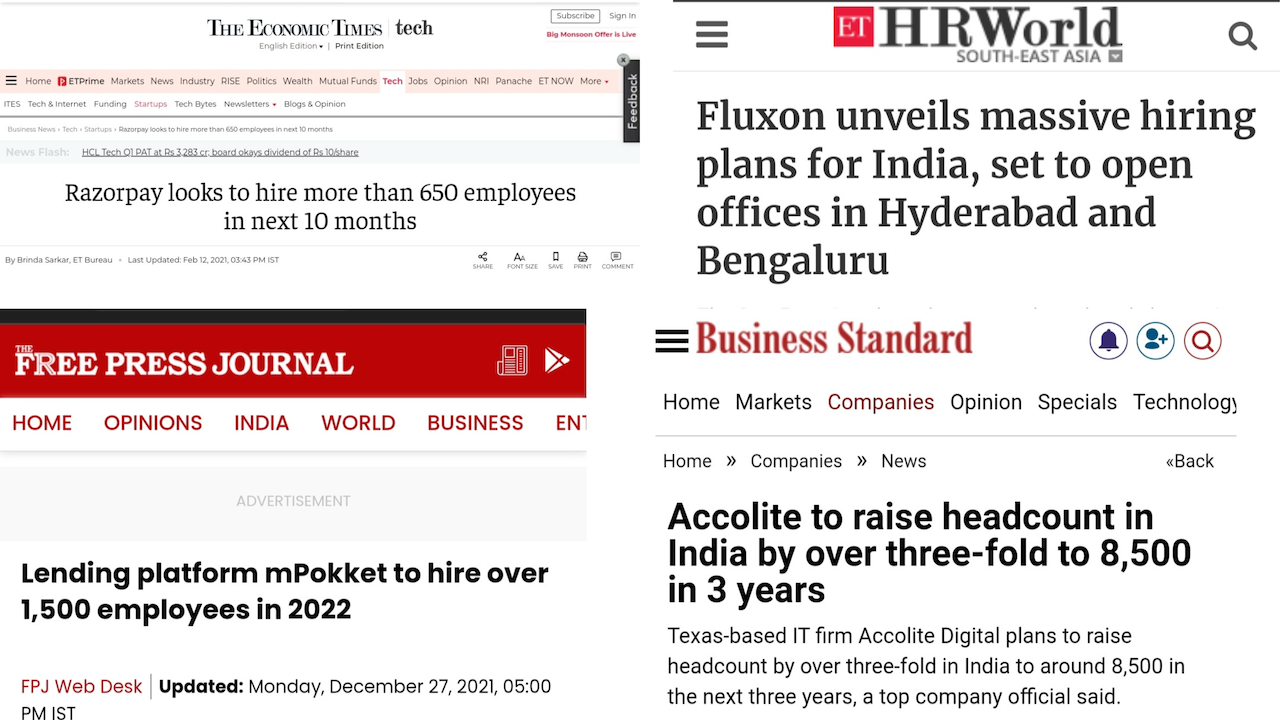 Razorpay was able to raise $375m in the F round of funding separating it from the list of companies struggling to find investment and thus also adding it to the list of companies looking forward to hiring more in this financial year. Razorpay has recently announced to hire around 650 new employees on the team.
Fluxon is looking to add around 1000 new employees for a technical position. They are lenient on the hybrid work culture making it seem that they are looking to invest in the future of their employee base.
A startup on the list has shared its promising hiring plans for the future. The company has stated that they are looking to add 1500 new employees to the team, this is massive keeping in mind that they have also added 500 new employees to their team.
According to Business Standard reports, Accolite Digital is looking to hire around 8,500 new employees in the upcoming 3 years. Considering the fact that the company already has 2,400 employees in India across different offices it can be inferred that the company is looking to invest in their hiring plans even in future.
Who is gaining from this?
If we do not give it much thought it is simply the existing talent looking for a job is to gain from all of this, right? Well, maybe but before jumping to a conclusion, let us analyze what is going on in the market.
Several companies are laying off their employees in huge numbers and a few others are looking to hire in huge numbers, this is where the demand and supply dynamics comes into play. Due to mass layoffs, there is an increase of talent looking for the job, with these companies opening new job positions there is a surge in competition in the market. So, for every job position out there, there is an increase in competition. Now back to the same question, who is to benefit here? Due to this competition companies still hiring have an edge during this scenario. However, in a longer run it's the candidates who will have a massive gain.
Tech is the code for recruitment
While the majority of the sectors are struggling, tech is one sector that is still in demand. Companies are reluctant to let go of good technical talent. According to ACARA "The need for candidates within the IT software and services sector was 55 percent higher in June of 2021 than it was in January." Tech talent is not able to keep up with the increase in demand and this is one of the prime reasons why companies are ready to invest in tech teams even though they are cutting down other departments.
So, a good time to be in tech we guess, however one thing to keep in mind is that the companies adding new job openings have increased the bar for its recruits making it even more difficult to make the cut. This is an important step considering how companies are looking to invest in real skills and these raised bars could work as apt filtering criteria for them.
Hope is still alive
It is a positive sign that the market is not just filled with resignation and layoffs, there are opportunists still lurking around it's just about grabbing them. It could be safe to say that technical skills are not losing their demand shortly and with real tech skills you can have an edge in the competition, but it is still just about the edge, from there you can do the heavy lifting yourself. Although predictions are there that the funding freeze is not going anytime soon so it is good to see such initiatives by companies towards hiring, and what's even better is that there are companies giving luxury bikes to their employees just to stop them from leaving, pretty unbelievable right? Read more about it here.